I'm trying to spend a good amount of time developing each room... Every room should have a purpose, but they should all come together in a non-linear way.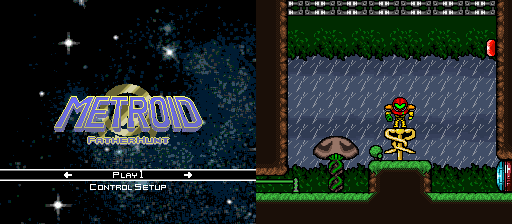 I totally redid the title screen, and added customizable controls. However, at the moment they're very unstable. I might have a separate executable available for editing them. It shouldn't hurt anything, as long as they work. I've also finalized the save system, it works a lot like that of Metroid II, however, it restores your health. One might say this makes things too easy, but considering how few save rooms there are, the difficulty stays at a good level.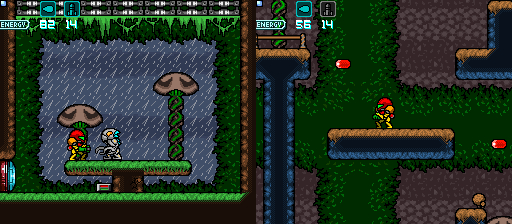 As long as you could spam enemies with your beam they weren't a problem. I've found a better way of doing things. While some enemies can be damaged all over, some have weakspots, weaknesses and resistances. For example, you can only use concussive weapons on the space pirate (bombs, missiles) but you can use anything on the jumping slime enemy.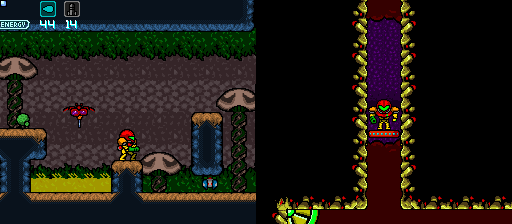 I totally neglected 2 things I had programmed before: Acid and Elevator Shafts. I've found places to put acid so that one is more aware of their environment and doesn't just breeze through. I've also added scrolling elevator shafts to keep in touch with some of the special things Metroid has always done.
This is just to show that the second area, Anfine, is now the main focus of development. I'm still working on new enemies for it however. I've recently started redesigning enemies to look and behave differently from classic Metroid enemies. Also added a little particle trail to the power beam, and other types of trails for the other beams.
That's all for now, please comment & share!